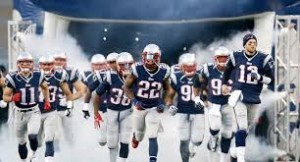 For per head sportsbook fans every time the Pats take the field, they will pay attention. The New England Patriots, fresh of their big win on their season opener against the Steelers are now moving to face a challenge that, on paper, shouldn't be difficult against the Buffalo Bills. They are the -1.5 favorites on the majority of gaming sites, despite being the away team this Sunday. It might be a close game, but the Patriots should not take this game lightly, Buffalo is talented enough to put up a fight and maybe even an upset.
Why are the Bills such a dangerous team all of the sudden? To answer that question look no further than their first game against the Colts. That did not felt like an accident or a fluke. It was a well-played, well-defended game by the Bills. They managed to exhibit a formidable defense and impressive performance all around. They were able to shut down Andrew Luck and they will be hoping to do the same against Tom Brady. Per head sportsbook odds had the Colts dominating the Bills, but their mixture of strong defense and well-timed offense was enough to score them a big win right at the beginning of the season.
New England celebrated their past Super Bowl win and their recent legal battle with a convincing win against a tough Steelers team in their season opener. They have the talent and the tools to top the Bills, but it wouldn't be wise to expect Brady to play every single game like he did last week. This week, in order to come out on top, they will need to be as sharp as they can be, specially with a team this solid on defense and with Rex Ryan motivating them. Furthermore, the Patriots' defense has to respond and be ready for the running attacks that the Bills will mount with LeSean McCoy. Per head sportsbook fans, specially those who like to wager of halfs should be on the look out early on to see if the Bills run game is hurting the Patriots.
Frankly, after all the hoopla and fanfare that came with Tom Brady's return, this game could be a rude wake up call for the Patriots. White label Services and gaming odds hold the Pats as favorites to win the Championship, but in games like this, they are not gonna put on a Championship class performance. The Bills defense is to be take seriously, and considering that for the moment they are very strong on all aspects, the Patriot's will try and fail to get the win, they will lose 27 – 21.