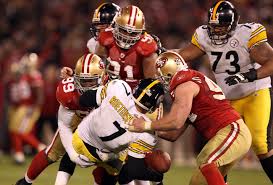 Per Head sportsbook bettors probably were not expecting the performance the San Francisco 49ers pulled against the Vikings on week 1. Dare we say, even they expected it. Yet it happened, the Niners thrashed Minnesota 20-3. A low scoring game that could have gone with a much more "alarming" final score.
This week, the Niners travel to Western Pennsylvania to go head to head against the Steelers who are coming from a loss against the Patriots at Foxboro. Pittsburgh does not want to start the season on a losing streak and they are not going to let that happen at home.
The Steelers had a long week to rest and analyze what might have gone wrong with their game plan against New England. At the end, their very mistakes, were their downfall against New England. Truthfully they did not play that much of a bad game either. Yes, they have a lot to correct on their defense, and offense.
But there are some interesting high points that can and will be exploited. Per head sportsbook users can expect to see DeAngelo Williams run the ball and open up the passing game for Roethlisberger. Big Ben's main target will be Antonio Brown, but the Steelers will also be looking for a second option to diversify their attack.
The Steelers apparent weakness appears to be their passing defense game. They were just unable to stop Tom Brady (he threw for a total of 288 yards and 4 TDs). They face a great QB in Colin Kaepernick, who might not be on the same level as Brady, but he can definitely represent a very tough challenge for them. Even so the per head sportsbook line has the Steelers as favorites by -6.
The Niners attack against the Vikings on week 1, came mainly from the ground. They rushed the ball over and over and they got a total of 230 rushing yards.
Their passing game is still not quite there yet, as San Francisco will need for Kaepernick to step his game up soon. If they want to win this game they will need to have a good and efficient passing game. The Steelers don't seem to be able to handle a good passing game. Therefore, if the passing is not hitting the Niner might be in for trouble. That is why the Steelers are the bookie services favorites.
In conclusion, we don't see the Steelers letting the 49ers steal this game from them. Final score will be 34-21.