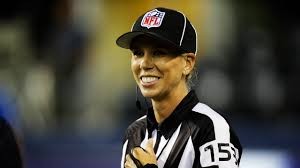 Line judge Sarah Thomas is set to move up to the NFL this season. The former Conference USA official is in line to become the first female full-time official next year. The league hasn't official said so, but it is a foregone conclusion. Since the very beginning she was on the NFL radar but an unexpected pregnancy derailed he ascension and she has finally worked her way up the rankings.
The Los Angeles Times has reported Sarah Thomas will be one of the eight new officials for 2015. Sarah has officiated in preseason games and is also on the league's training program. Technically, replacement referee Shannon Eastin was the first female to officiate an NFL game during the lockout of 2012, when pay per head agents were left scratching their heads at certain calls which affected the balance of the game.
That is not her main objective to break barriers. She stated "The thing is, I've never set out to be the first, and that hasn't changed," said Thomas, who first started officiating football games in 1996. "I do this because I love it."
The NFL has a system in place to identify which college referees has promise and Sarah Thomas has been in the discussion since 2013. She soared through the ranks and caught the eye of NFL officials. She has joked about sometimes being the only female in the group, but sometimes things of that sort work to your benefit. The mother of three got her first taste of officiating when she accompanied her brother to meeting for people interested in officiating football games.
Sarah Thomas is not alone though as there is another female in the pipeline. That female is Maia Chaka and both she and Thomas are in the development program. The barrier should not even exist as you can see more and more females getting a shot at officiating and other positions solely possessed by men in the past. I know we are light years away but there is no reason a female cannot take a team to Superbowl. Obviously if such person is knowledgeable about the game.
When Sarah does breakthrough officially there can be domino effect depending on how well she does in her new environment. I have reason to believe she will do an excellent job just as NBA officials have weathered the storm of change and are now thriving in the NBA.