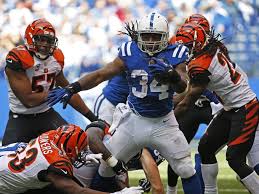 As week 4 of the NFL Preseason will leave us at the helm of what we have all been awaiting: The 2015 NFL Season. Price per head sportsbook enthusiasts, have found in these three weeks of action a good measurement on how the teams have gearing up to the games that do "matter".
In week 4 we will see the Cincinnati Bengals take on the Indianapolis Colts in a game that might not have the anticipation that other games in the pre season has had. The Colts are still mentioned in the discussion of the tams that can make their way into the playoffs. Even being considered as favorites in some per head bookmaking services even.
The Bengals are looking to reach the playoffs and make a splash this season. They have a qualified roster and the experience to perhaps start making this a winning team. They have good odds to reach the playoffs, gathered from the lines posted on most per head bookmaking services. They have the talent and the team to pull off a good season, but it still to early to call.
As for their game this week, it will be a game for the bubble players to make their final push to be considered for the roster for the upcoming post season. Which means that starters like Andrew Luck and Andy Dalton will likely not be playing this game. Now this might cause for the average football fan to tune out, but hard-core football fanatics know better than that. This will be a good appetizer for the upcoming week 1 games.
For this game, and considering the players that are going to take the field the Bengals are the favorites. During the preseason the Bengals have demonstrated to have better depth in their lines than the Colts. On paper, and judging from how Cincinnati has been playing the past few games, they are a very good team and they are looking tough for the 2015 season.
The Colts can still be given the benefit of the doubt when it comes to their recent performances. Let's just say that preseason games "don't mean anything", the Colts have not displayed their weaponry as they are probably saving them for the regular season. However, there is a depth issue that can't be hidden much longer by the Colts. They will struggle in this game, much like they have struggled all preseason long. They are the underdogs on this game for a reason.
Expect the Bengals to win this game 21 to 14.