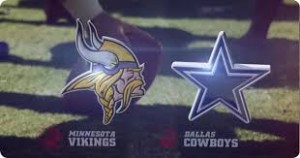 It is just the preseason, and most experts will say that these games don't mean anything, but the Cowboys need to start turning things around, urgently. Their Preseason record is 0-2, but the atmosphere surrounding their training camp is making it look worse than that. Fights with each other and other teams have made them the center of attention in the sports pages in several occasions and not for good reasons. The will host the Minnesota Vikings, a team that is 3-0 and is looking more solid with each game. A very interesting game in deed for per head Sportsbook bettors, as the Cowboys are considered the slight favorites by many bookmaking services.
The Minnesota Vikings are not getting enough props by the media these past three games. All their units have looked sharp and strong, and they are winning games against considerably better opponents. Teddy Bridgewater is aiming to becoming one of the top QBs in the league, as he has set his goal to reach 70% of completion, when the season comes. Their running game will still be looking strong with Adrian Peterson carrying the football and looking as tough as ever. Their defense is also been very effective this preseason and they are looking more than ready for the start of the regular season.
Almost as a stark contrast, the Dallas Cowboys don't seem to be gelling all that well. Since training camp there is a sense that there is a tension in the locker room and even it its only a rumor, it's starting to look that way on the field. Their defense is all over the place. Especially their running defense is looking shaky, even though it is still too early to pass a judgment on them. But, to be fair, their starting squad has not gotten to the field just yet.
On offense they are trying to recapture the magic that helped them reach the playoffs and be on the verge of knocking off the Packers in the Divisional playoffs. But there is still a lot of work to be done. Tony Romo might not see a lot of playing time against the Vikings this week, but there is still an outside chance that he will be on the field. It could definitely add to the matchup. It will definitely impact the live in-game betting for this game in per head bookmaking services.
However the aforementioned shaky run defense of Dallas will have their work cut out for them as Peterson will be on the field and he will carry the football to the end some in more than one occasion. Vikings will win 24-14.