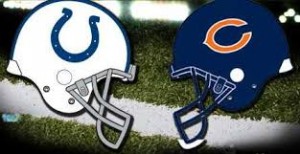 The Indianapolis Colts were blown out on their first game of the preseason by the Philadelphia Eagles. This week the Colts will host the Chicago Bears looking to prove the fans and themselves that the first game was no indication of where they want to be as a football team. Nonetheless, despite their big loss they are coming into this game considered as the favorites by almost all pay per head bookmaking services. However the Bears will look to add another win on their preseason record after their victory against the Dolphins at Chicago last week.
Colts fans, do not despair. Preseason games are not a big deal in the large scheme of things. Indianapolis is looking to their injured players back on playing form to include them in the rotation. On the meantime substitutes will get some playing time to build up their confidence and try to get the coaches attention. Also, Andrew Luck is not expected to get a lot of paying time in order to protect him and make sure that he makes it healthy to the first game of the regular season, however it wouldn't be surprising if Luck gets more playing time this week than last week, so the Colts offense will definitely benefit from his inclusion on offense.
The Bears will be coming into this game for the first time since hearing that rookie receiver Kevin White will be out for an extended period of time due to shin surgery. This means that Jay Cutler will need to figure out who will be their go-to receiver for this and the future games in the foreseeable future.
Although the Bears are not considered by most experts and bookmaking services to be championship contenders, there is a lot of optimism because of recent changes made to their coaching staff. And that optimism seems to be well placed, after the Bears won their first game against a tough Miami Dolphins team. The upcoming season will be a crucial one for QB Jay Cutler, and there will be a lot of eyes placed on him every time he takes the field, so the pressure will be on definitely.
This game can be a toss up, but the Colts will enter this game with a certain urge to win this game and gain some momentum. If you are wagering in a pay per head sportsbook we recommend that you lay your money on the Colts and play the under.