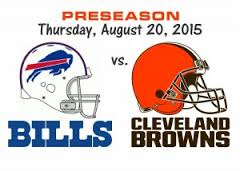 The Cleveland Browns' last season demonstrated very clearly that they have a lot of work to do if they want to turn things around. They have become an easy target for the mockery of the league and experts feel that only a miracle could save their season, a season that hasn't even started yet. On the second week of the Preseason, they will be facing the Buffalo Bills on Thursday night and the Browns coaching staff are taking this game very serious as it will be a good test to measure how their offensive will be able to deal with a defense that last season led the league in sack.
Currently different bookmaker services hold the Browns as the favorites with a line of -1. While the line s schedule to change as we approach kickoff, it does not seem to be to fat fetched to see the Browns win the game and cover the spread. The reason is very simple, they are truly busting their behinds on training camp and different reports coming from people close to the Browns' organization state that their offensive line is looking far better than how they did last season.
Last week the Browns lost to the Redskins by three points, in a game that certainly had plenty of positives for the browns, but certainly several areas where they are needing to improve. Their running defense is a major concern at the moment and this game versus the Bills represents a huge opportunity for their defensive line to step their game up. While McCown and Manziel are starting to look alive, they will need their defense to man up if they want to win this game.
As for the Buffalo Bills, coach Rex Ryan has told the press that they are not going to be bullied by the Browns. They are coming from a tough game against the Carolina Panthers, where they lost by one point, but had a good performance from the team as a whole. The good news for them is that their entire QB staff will be available for Thursday's game.
The Bills defense will look to dominate Cleveland an keep their offense to a minimum. Bookmaker services know of the Bills defensive capabilities, and that's why they expect this to be a tight game. Buffalo's offensive, however, is not impressing anybody at the moment. They will look to have their Quarterbacks have much better games than their previous encounter with the Panthers.
This game will be close, but in the end the defense on the Bills will be the key to their success. The Browns will put on a good fight, but ultimately the Bills will win by at least 5 points.