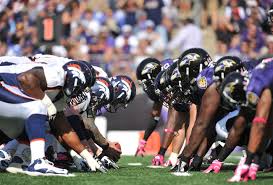 The 2015 NFL season will start for the Denver Broncos with a visit from the Baltimore Ravens to Mile High Stadium. This game will feature two teams that will very likely make it to the playoffs, and in certain circles of bookie services they are considered teams that have good chance of making it to the playoffs. Both teams have future hall of famers in their QB position, and both have revamped rosters. It will be a matchup that could provide a clear picture of what to expect from both teams' season.
The Ravens' defensive line will be a completely new unit, during the off season they switched things around and ended up with a brand new line. There are a lot of high hopes for the Ravens defense this year, as well as their offense. In the offense, Baltimore will look to the underrated Joe Flacco to carry their offense, he will be aided by RB Justin Forsett who is coming back from a great 2014 season. The Ravens offense will come as a great test for the Broncos strong defense. Some players in online bookie services might not hold them to high regard, but the Ravens still have a team that can take them deep in the playoffs. Perhaps, not a Super Bowl caliber team, but one that will be fun to watch every week.
The Denver Broncos for the 2015 season will see a very different team to what we have been used to. Peyton Manning will be leading their offense once again, but the star Quarterback appears to be in the twilight of his career. Manning is not at the same level as he once was, and there is a lot of uncertainty on how he will play this season. But, this year he will have a some pressure lifted from his shoulders, as the Denver Defense has become a whole new monster. Bookie Services can expect the Broncos to become a team that will win games based on defensive toughness.
In past seasons, the Ravens and Broncos were a recipe for a high scoring game. This year we will see an exhibition of defensive toughness. Peyton Manning might not be as on point as expected, and the Ravens offense might struggle with Denvers defense. This game will be close and low scoring. The average per head sportsbook line favors the Broncos -4.5, it wouldn't be a crazy idea to bet the under on this game. Final score will be 21 to 17 in favor of the Denver Broncos.