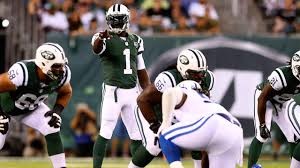 Week 1 of the NFL 2015 season had a bunch of unexpected results that per head services and online gaming bettors were not ready to see. But hey, that's the beauty of Football season! This week two teams that had a strange season opener meet up for the second week of the NFL season. The New York Jets and the Indianapolis Colts will square off in Lucas Oil Stadium this coming Sunday, with the Colts as the -7 favorites.
In their season opener the Jets surprisingly pounded the lights out of the Cleveland Browns and demolished them 31-10. A good win to start the season, but let's not forget it was the Browns after all. Yet, the Jets won the game, they looked fierce and strong. For this game against the Colts they will want to keep the momentum. Per head services and sports betting sites, once Geno Smith was sidelined, doubted the Jets' chances of having a vindicating season, especially since his injury meant that Ryan Fitzpatrick was going to be the starting QB. Yet, against the Browns, Fitzpatrick delivered a good performance, but if the Jets want to beat the Colts, they will need for him to step it up another notch. As one of his top priorities for the game will be to not turn the ball over… at all. Considering that this is the Jets we are talking about here, it is definitely a very complicated mission they have on their hands.
The Colts fell victims to a formidable defensive unit in their first game of the season against the Bills. Indianapolis strategy of relying way to much on what Andrew Luck might be able to do, was in the end their weakness. If any defense is able to stop him from reaching his receivers, the Colts are doomed. They need to develop a good running game to provide Luck with enough breathing room. Against the Jets, they will be obligated to use a good mixture of passing and running if they wish to win this game. Per head services have the Colts as favorites because in case Luck is having a good game, then there is no way the Jets can catch up to him.
This game will be a very interesting one to watch, those who are playing in bookie services should not underestimate the Colts capability to bounce back after a tough loss. The lesson from the Buffalo game appears to be well learned. This game will end up 28-21 in favor of Indianapolis.