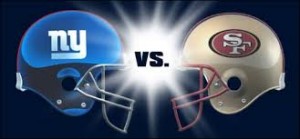 The Giants have a clear edge in the rivalry that they have against the 49ers, as they won five out of their last six games SU, and they were able to cover in seven out of their last eight meetings. San Francisco will try to do everything they can to put the game in their favor when they face the Giants at MetLife Stadium on Sunday, in a game that live betting fans everywhere are eagerly anticipating.
The betting line opened with the 49ers being the favorites by three points, and the total opened up at 43.5.
Finding themselves in a very difficult position after their loss in Week 9 to the Rams at home, San Francisco were able to prove that they can still fight when they beat the Saints last week 27-24 in overtime.
The 49ers were leading in most of the game against New Orleans, falling behind and only needing a field goal late in the game to have a 24-24 tie. The defense then made the game's most important play – a fumble by Drew Brees was what led to the kick that won the meeting. San Francisco, being at 5-4, are behind a game in the fight for the second wild-card position in the NFC, so they're clearly still alive.
New York were just beaten by the Seahawks 38-17, and they were not able to cover as the road dogs by nine points, but that meeting ended up being closer than it might have been shown by the score. At halftime, the Giants were leading 17-14, and had a tie of 17-17 in the game's fourth quarter before Seattle were able to break free with 21 points that went unanswered.
There was not much that the Giants could do when it came to their game on the ground, but Eli Manning was able to hit Preston Parker and Odell Beckham each in seven occasions – something that helped keep the Giants alive. And even though New York's defense got done in for 350 ground yards, it could also pick off Seahawks QB Russell Wilson vtwo times.
The 49ers, had quite a few problems so far this season, but they were able to outrush the teams that they took on by a margin of 122-91 yards-per-game, and on average, the Giants ended up being outrushed 145-104. This season, teams in the NFL that were able to win the battles on the ground so far are 99-45 ATS, so going with San Francisco would be a decent move, and one that many live betting fans are making.
More NFL information: 
The Lions have more injury woes, and the fans are worried
The season is over for Brandon Mebane