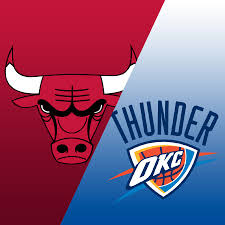 Date: Sunday March 15th, 2015
Time: 1:00 pm ET
Where: Chesapeake Energy Arena, Oklahoma City
Preview: The Chicago Bulls hosted the Oklahoma City Thunder back on March 5 and that ended with Chicago winning 108-105. This time around the Thunder have home court advantage and look to finish the Bulls by a sizable margin. Since losing Kevin Durant, the Thunder have started to get a little more comfortable, and they'll need all the passion for their final ramp up to the NBA finals.
OKC needs this win to keep their NBA playoff chances in check. Look for triple-double master Russell Westbrook to keep up the magic. The Thunder easily took down Minnesota Friday 113-99 and with Saturday to rest, the team will prove their excellence at home.
The Bulls have a serious drought of players as Butler remains out with a hyper extended elbow. Their inability to win let alone score a lot in Oklahoma City will keep the total low overall. The Bulls of course still have veteran Pau Gasol and rookie Nikola Mirotic who added 21 and 26 respectively recently, and will be aided by guard E'Twaun Moore who manage a career high 19 points in a game.
Chicago has more wins that Oklahoma City which helps their NBA playoff chances if they can overcome their lighter roster.
Chicago Bulls Injuries:
Jimmy Butler    Elbow   Out indefinitely
Taj Gibson         Ankle    Out indefinitely
Derrick Rose     Knee     Out for season
Oklahoma City Thunder Injuries:
Serge Ibaka       Knee   ? for Sunday
Kevin Durant    foot    Out indefinitely
Prediction: Westbrook is only the fourth player over the last 30 years to record six triple-doubles in a season with at least 25 points, and now he's got 8. With that in mind we think that he will follow up from his previous high scoring bouts and help the team with at least 40 points after saying he was going to stop passing the ball. Thunder fans will appreciate that for sure.
Pay per head sportsbooks are holding off putting up the odds due to the question of Ibaka playing.
Contact the Pioneer of Price Per Head IDSca.com for complete Live Betting services.