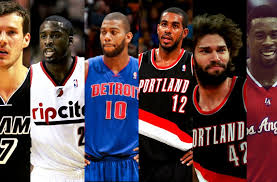 Day 1 of NBA Free Agency was break neck yesterday. There was tons of info to chew on. It was fun. I was hooked on Twitter all day just going through all the tweets given out about this player here, this player there. There are still decisions to be made as there are still meetings going on.
Paul Millsap decided to go back to friendly surroundings and sign with the Atlanta Hawks. They came to an agreement on a 3 year $59M contract per Price Per Head Provider. The Orlando Magic had offered him an $80 million dollar deal but ultimately Millsap decided on the Atlanta Hawks.
The shocker of the day was Tyson Chandler signing with the Phoenix Suns. The big man agreed on a 4 year $52 million dollar deal. They used that and the young core into a meeting with LaMarcus Aldridge, and it has been said he was impressed with their proposition moving them into contention for his services with the San Antonio Spurs. The Phoenix Suns can also sign and trade with the Blazers dangling Eric Bledsoe, and that way Aldridge can get max money, they have a great shot.
Breaking news: Pay Per Head Sportsbook has just learned, Greg Monroe has agreed on a max deal with the Milwaukee Bucks. The Knicks were also vying for his services but he chose Jason Kidd and the young Bucks. The 25 year old big man agreed upon a 3 year $50 million dollar deal. This will make the Knicks press a little more for a big man.
The Knicks did sign Arron Afflalo to a 2 year $16 million dollar deal. The Afflalo signing is a bit under the radar but a good deal for the Knicks. He will stabilize the backcourt and is a two-way player. It also helps to be familiar with Carmelo Anthony from there Denver days.
Marc Gasol resigned with Grizzlies on a 5 year deal in excess of over $100 million dollars. Marc Gasol did entertain any interviews besides the Grizzlies and he's been in Memphis all his life. Congrats to Marc Gasol and the Memphis Grizzlies. The Grizzlies also came to terms with high flying center Brandan Wright to the tune of 3 years $ 18 million. The Grizz are primed for championship contention.
There is still a lot to be resolved but the NBA's offseason has been a blast.