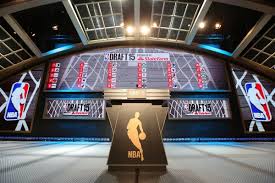 After taking a break to take in exactly what the Knicks had done, I'm back to analyze 5-10.
With the fifth pick the Orlando Magic selected Mario Hezonja, from Croatia. Mario posses excellent build for the shooting guard roll and has a mean streak not often seen from European players. He was playing professionally for Barcelona and adds another dimension to the already young multifaceted Orlando core.
With the sixth pick the Sacramento Kings selected Willie Cauley-Stein, center from Kentucky and maybe the best defender of the draft. They've been speaking of some one they could pair with DeMarcus Cousins. They may have found him in Cauley-Stein a versatile defender with great instincts and speed. He has been compared to a john Wall of the centers and maybe a reach at 6 because of his deficiencies on the offensive end.
With the seventh pick the Denver Nuggets selected Emmanuel Mudiay, a 6'5 point guard from Congo by the way of Texas. He is a physical presence at the point guard spot and looks to get his teammates involved. With a great blend of speed and power, he has a chance to make an impact in Denver's high altitude.
With the eight pick the Detroit Pistons selected Stanley Johnson, small forward out of Arizona. Many believe so does pay per head provider, they might of left a better player on the board with Justise Winslow, but they chose there guy. He has the ability to be a great defender and has offensive skills. His calling card is his physic; he's 6'6 242 pounds and built like a bull.
With the ninth pick the Charlotte Hornets selected Frank Kaminsky, a 7 foot PC/C from Wisconsin. He has turned himself into a stretch and many teams dig that. He is a senior with great poise and one that can one day become a leader. There is a lot to like but I'm not so sure he does enough well to merit a top ten pick.
With the tenth pick the Miami Heat selected Justise Winslow, a small forward from Duke university. He has great ability at both ends of the floor and many people including Best Pay Per Head Company believe he was the steal of the draft. Pat Riley does it again. If Wade stays he can be a great mentor, if he leaves they have a player that can step right in and do some of the same things Wade does.