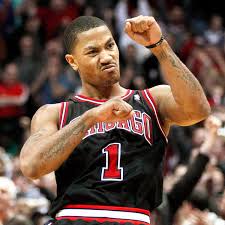 Chicago Bulls coach Tom Thibodeau is hopeful that star baller Derrick Rose will be healthy enough for a return to the team by next week. Rose has been absent from NBA betting lines since February after suffering a torn medial meniscus in his right knee.
"It's just the initial steps," Bulls Coach Tom Thibodeau said. "But we're cautiously optimistic. He's in good spirits. He's on it, so it's good."
Rose started physical therapy the day after he had the surgery at the end of Feruary and has been working hard to get back to playing and not miss any more games.
"I'm feeling good," Rose said. "I'm trying to do all the right things, put all the positives in the bag and just try to go with it. It's something that I've been doing for a long time with rehab. It's a grind—definitely a grind—but I'm getting used to it."
Rose has been plagued by injuries over the past few years, most notably the 2012-2013 season when he was unable to play due to a torn ACL In 2011 he only played 39 games because of injuries.
With some time on the court Rose will have the time to get used to the strain his body will need for the playoffs.
"The Bulls have a pretty soft schedule the rest of the way, but the game to circle for a possible Rose return is April 5 in Cleveland," NBC Sports' Sean Highkin said on March 25. "That will mark just over five weeks since the surgery, which was originally given a four-to-six-week recovery timeline, and would give Rose five additional games to play his way back into shape before the start of the playoffs."
Rose so far has only played 46 games this year and has averaged 18.4 points per game with career average of 20.5 points per game.
The Chicago Bulls host the New York Knicks Saturday night with NBA betting lines available for pre-game. The game starts at 8:00 PM ET and although Rose won't be ready for this game, he will be cheering his team on from the team's bench.