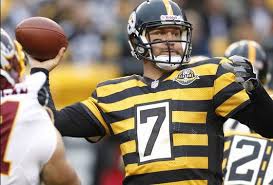 On Monday night, The Texans will see if they can finally put an end to losing 10 games in a row as the underdogs on the road when they visit the Steelers, and live betting fans can't wait to see what will happen on the field when this meeting gets underway. During that run, Houston are 4-6 ATS, and will take on a Pittsburgh side that is only 1-4 ATS in their last five games played at home against opponents in the AFC South.
Pittsburgh's betting line opened as the Steelers being the favorites by four points, and earlier during the week the total was 45.
The Texans will be able to rest more after their game on Thursday night, and they would like to find what happened when they lost to the Colts 33-28. In the game's first quarter, Houston let Indianapolis get a lead of 24-0 before their very intense clash ended up falling short.
Houston did very well when they were running with the ball against the Colts, with RB Arian Foster recording a total of 109 yards rushed and two TD's, and the player will again be vital in slowing down their opponents' speed and getting things moving when they take on the Steelers.
The Texans currently don't seem have a QB who is capable of winning a shootout; therefore it's very important for the team to play with an improved defense, and not getting turnovers is key. It's not surprising at all that this season, Houston's defense was able to limit the teams they played against to two or less TD's the four times that they covered, and this will most likely be very necessary again for Houston to have a close game against Pittsburgh, beating the spread in the process.
This season, the Steelers won and lost in all of their six meetings, meaning that the team is set to clinch a win after they were beaten last week on the road 31-10 by the Browns as the underdogs by 2.5 points. Pittsburgh's last two games were on the road, and in Week 4 they were defeated 27-24 by the Buccaneers in their last matchup as the favorites by seven points at Heinz Field.
The Steelers have to win at home against the Texans if they don't want keep on slipping in the AFC North behind the Browns, Ravens, and Bengals.
Live betting fans would like to see what will happen on the field when these teams go head-to-head, and are anticipating a very exciting showdown.