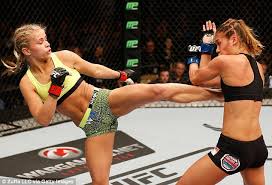 If you weren't watching the MMA odds on Saturday night, you may have missed an opportunity to see one of the fasted rising new stars in the Octagon.
Paige VanZant went in as what she thought was the underdog, against one of her idols, Felice Herrig, a six year veteran at 10-6.
"I don't feel any pressure," VanZant said. "I'm the underdog, I'm supposed to lose. So, winning makes it feel that much better."
With only six professional fights and at only 21years of age, and two of those fights in the UFC, VanZant had a right to be a little emotional Saturday night at the Prudential Center in Newark, New Jersey.
"I started crying before the fight was over," she said."So, it's very emotional."
Crying is not something you see a lot of in the world of MMA odds, but it was understable that her emotions were running high after winning only her second UFC match.
UFC president Dana White was so impressed with VanZant that he compared her to another well known UFC fighter.
"It's almost like the Conor McGregor thing," White said during the press conference after the fight. "The guy bursts out of nowhere, explodes onto the scene and backs it up. And Paige VanZant did tonight, too. She looked unbelievable. And she is. She's one of those people that has that thing."
"She's got that thing that I always talk about — that thing you can't teach,"
The beautiful former cheerleader, dancer and ring girl may be now turning heads for a different reason as she now stands with an impressive 5-1 record in the MMA odds.
VanZant may still be green, but in time she will start to hone her skills and smooth out her fighting style.
VanZant started her UFC career in November of last year, taking the $50,000 prize money and shutting down the naysayers.
She first trained as a boxer, then in mixed martial arts, making her professional debut in June of 2012 at UWF'sTournament of Warriors Finale against Jordan Nicole Gaza, at the age of 18.
She had to wait to compete in the UFC due to her age, so she filled her time as the ring card girl, while continuing to train.