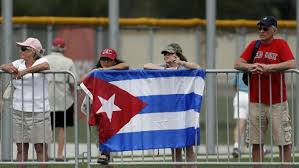 You knew it was going to happen sooner or later. The NFL plays games in England, the NBA teams have played games against European teams, and now MLB and baseball betting fans want to play in Cuba.
Once the United States President Barack Obama and Cuban President Raul Castro announced that they would work on normalizing relations between the two countries, baseball betting fans thought about how popular baseball is in Cuba.
MLB commissioner Rob Manfred told the Wall Street Journal this week that he was planning to have an exhibition game in Cuba in the coming year or so.
MLB last season had 25 Cuban players in the league, and they know that there is a chance baseball can help to ease the strained relations over the past 5 decades between the two countries.
"To the extent that we can play a role in helping the United States government effectuate a change in policy, that we're following their lead and we're acting in a way that's consistent with what they want us to do, that's an honor for us," Manfred said.
MLB looks to be able to add Cuba to their scouting markets, like Domincan Republic and Venezuela.
"It's a great source of talent," Manfred said. "We've seen the level of interest that quality Cuban players have generated among major-league clubs. And secondly, Cuba is a country where baseball is part of the culture, like it is here in the United States, and we love markets like that."
MLB has already been in talks with the US government about how they can arrange another visit to Cuba.
But as great as a game in Havana sounds to baseball betting fans from around the world, we still haven't hear an ok from the Cuban government.
Cuba has a rich heritage of baseball, and may fear that if they allow the MLB to visit the island, too many of their star baseball players would end up trying to leave for the United States. The chance for higher salaries is a great temptation for the Cuban players who would only receive a salary up to $200 in their home country.