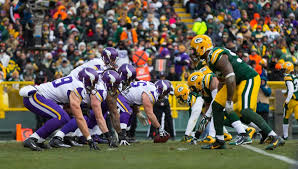 The Packers are getting ready to take on the Vikings on the road in this NFC North clash on Sunday after two wins at Lambeau Field. Internet bookmakers can see that even though Green Bay's record is 5-0 SU and 4-1 ATS this season at the games they played at home, they're only 2-3 on the road, and also 2-3 ATS.
The betting line opened with the Packers as the favorite by 7.5 points. 48.5 was the total.
The Packers are doing a very good job right now in the NFL, as they were recently able to take out their opponents at home, and now they'll see how they do while away.
In their last 10 games against Minnesota, Green Bay are 7-3 ATS, and the Vikings are 6-3 ATS in the last nine games that they played on the road when they took on teams in the NFC North.
When it comes to the Packers' defense, they're also doing a much better job. However, QB Aaron Rodgers is key in the team's bid to cover and win while playing away from home in this position. Lately, the player made great improvements with their passing game,
The player might be able to get that opportunity once again even if 50 points aren't scored by Green Bay.
Recently, the Vikings did a great job as the dogs on the road, as they went 8-2 SU and ATS in the last 10 games that they played while away. Minnesota's latest win in that spot took place in Week 4 when they took on the Falcons, as they were able to earn a win of 41-28 as the underdogs at home by 5.5 points.
Teddy Bridgewater – rookie QB – is also doing a much better job at home, as he's leading the Vikings to a win of 29-26 against the Redskins as the favorite by one point before their week off.
Minnesota were also able to do very well in their defense when they were beaten last week 21-13 by the Bears while on the road, and they hope to improve their efforts in front of the fans at home.
This season, the Vikings did a very good job sometimes, but they don't stand a chance against the Packers, even if the game takes place at home turf.
Green Bay are 7-2 ATS in the last nine games that the played as the favorites on the road, and were able to cover in four consecutive meetings. Many internet bookmakers believe that now that number should move up to five.