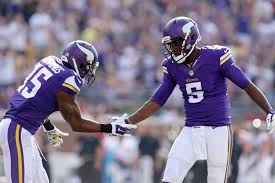 The Vikings made good improvements in the first year that they worked with Mike Zimmer, and many fans are now very eager to see how things play out in their second year with the coach. In Week 3, Teddy Bridgewater was given the starting QB role, and made it 5-4 in the season's last nine meetings. The player's progress, besides that of the team's defense, will be very important in determining how much Minnesota can accomplish this season.
The controversial Adrian Peterson will also return to action. The RB featured in last season's opener, but then he didn't play for the remainder of the season as he was suspended while he dealt with the law for having punished his son, who was four-years-old. Many price per head providers believe that Peterson is the best RB in the league, and could play a very big role in helping Bridgewater become an even better QB. A solid running game is necessary to ease things for the signal caller and the team's passing game.
Even though this season sees the return of Peterson and Bridgewater, sportsbooks are still being very careful, giving the Vikings odds of +1800 to be the NFC Conference winners, +600 for the NFC North, and +3300 for the Super Bowl. Bridgewater will be working with WR's Mike Wallace and Cordarrelle Patterson. The Vikings also have the services of TE Kyle Rudolph, who could turn into a huge surprise in the NFL if he can keep his health. The team's defense will continue to be built. Minnesota will also have CB Terence Newman, S Taylor Mays, and LB Casey Matthews, and they used their first couple of draft picks to get Michigan State's Trae Waynes and UCLA's Eric Kendricks.
DE Everson Griffin is also back with the Vikings. Last season, the player recorded 12 sacks, leading the team. Price per head providers saw that LB Anthony Barr was in contention to become the NFL's Defensive Rookie of the Year, but the player was sidelined after an injury to the knee. These men played a big role in the team's rise from the last place in the league in scoring defense during 2013 to reach 11th place. The Vikings will be playing in what is seen as one of the NFL's top divisions. They're set to face the Packers and the Lions two times. Bookies believe that when it comes to the Vikings, the best way to go is by betting on the regular season wins, which are at 7.5 over (-185).