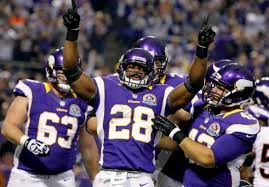 The Vikings' Live betting fans could see that the team's 2-4 start turned out to be a massive headache for Mike Zimmer, who is coaching the team in his first year – Adrian Peterson's continuous problems, key players who were injured, and quite a few arrested players – but there weren't many who thought that the coach would react the way he did after a losing to the Lions on Sunday 17-3.
The coach was not very happy at all with the team for their missing focus, and said that he had to give several players fines for showing up late to team meetings, and also said that this week those fines would cost more.
Nine penalties were made by Minnesota when they lost to Detroit. They were only able to convert three of their 14 third-down chances, and eight sacks were allowed.
"I expected better today," said Zimmer. "I thought we practiced well all week. Disappointing we didn't protect the quarterback, we didn't block guys, and until we figure out that this game is about blocking and tackling and catching the ball, doing your job, then we're going to have more results like this. But we're going to keep grinding them, pounding. Anyways, it's disappointing."
The coach said that any time that the players are late they're given fines – in practice, treatment, or meetings – and also said that before this week, he didn't have to issue many fines.
"I'm not going to let them slide," said the coach. "I'm going to keep fighting — I'm going to keep pounding my head and like I told them, the fines are going to start going to the max now. I'm tired of it."
The team's head coach did not hold back his disappointment when his standards weren't met by his players.
CB Captain Munnerlyn said that Minnesota was trying to learn what the coach expected from the players, and said that being punctual was one that was very obvious.
"We need to get on each other," said Munnerlyn. "We shouldn't need coaches to say, 'You've got to be here, you've got to be there.' Man, it's your job. It's how we feed our families. We've got to get better."
Minnesota's loss took place 10 days after they were beaten 42-10 by the Packers – a loss that was still troubling the coach and many of the team's Live betting fans. Zimmer appeared set to get over this upset on Sunday, but instead, the team was jeered many times when Detroit "kicked our butt," said Zimmer.
"We practiced good," said the coach. "Sundays we don't play as good as we need to. That's the thing I can't figure out. Why don't we play like we practice?
"This team — like I said, they're hard to figure out — but they care. They study. I haven't changed my opinion about how they go about their business. Maybe I'm missing something but I've been around an awful lot of teams. It bothers me a little bit when some things happen bad and we don't fight our way out of the hole. That's what the good teams do. We haven't done that yet. Things are going good, we're pretty good. Things are going bad, then we don't continue to push out and fight out. Defensively I thought we hung in there today. Special teams I thought was poor. We've got guys on the sidelines talking to officials. I said, 'Don't talk to officials; let me do it.' We're undisciplined. Trust me, we're going to get disciplined."