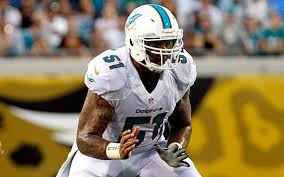 The Miami Dolphins' live betting fans believe that now there could be hope for the team, as on Tuesday, Mike Pouncey , Pro Bowl center and a key piece in the team's lineup, was feeling very optimistic about returning to action after receiving major surgery on his hip.
"As I feel right now, I feel like I can play," the player said.
"I don't really know how long it's going to take to get back on the football field. But, as I feel right now, I feel like I can play."
His surgery was supposed to not let him hit the field for a while, and his fans were very concerned when they found out that he could miss up to seven games this season. Pouncey was a chief candidate for the PUP list of the regular-season, and the player would have been required to not miss out on the Dolphin's first six meetings.
However, the player's football betting fans were very pleased to learn that he seems to be progressing well, and he appeared to be in very good shape in training camp, rehab, as well as in the preseason, so now Miami feels that Pouncey can play sometime within these six weeks, and many experts see this as very good news for the team.
"The biggest thing about it when you're on the PUP, you don't get to practice with the football team," the player said. "That would set me back too far. They gave me the opportunity. Obviously they believe in me to be back in time."
This summer, the player hinted that he would like to play in the Dolphins' Week 4 game in London against the Oakland Raiders. On Tuesday, Pouncey said that the matchup would be "special to me, but right now there's no timetable."
Miami definitely need the services of their Pro Bowl center. The Dolphins' fans could see that in the preseason, the team had a running game that not very consistent at all, leaving many fans wondering how they would do in the regular season.
On Sunday, the Dolphins will take on the Patriots at home, and fans everywhere are very eager to see what will happen on the field once this meeting gets underway.