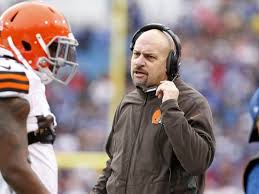 When it comes to Browns and how they handle Players especially the quarterback position, very little happens with any clarity.
On Thursday night against the Buffalo Bills, Josh McCown had a chance to throw down the gauntlet as far as the starting QB job goes.
McCown went out and threw two interceptions and was sacked three times.
"Not good," McCown said. "Not good."
Johnny Football on the other hand followed and guided a 96-yard touchdown drive, then stumbled in the two-minute offense with a chance to win the game in exciting fashion.
Afterward, Manziel talk up the good elements of the touchdown drive and the bad elements of the two-minute effort. That's when he went 1-for-6 for 6 yards, with a 15-yard run.
McCown said he needed an X-ray on his ring finger, which came out negative. He admitted something could happen overnight in terms of swelling, but he expected finger to be fine.
So the starter did not do enough to get a stranglehold of the job, and the backup did not do enough to seize it, but the starter has this little issue of a finger that needed to be X-rayed.
Call it what you may but the new coach changes that.
Browns coach Mike Pettine is a man of clarity, though.
Pettine assessed the play of the quarterbacks by calling it a "typical preseason game."
"They did some good things, they did some bad," Pettine said. "Josh, I thought — and he'll be the first one to tell you when he comes in here — forced some of those throws."
Said McCown: "It was obviously not the standard I wanted to play at."
As for Manziel, Pettine quickly pointed out there is a "pretty good dropoff" from the Bills starters to the backups, whom Manziel faced.
"There's a lot of twos with the starters as well," Pettine said. "There's an even bigger dropoff to what they're playing against. It gets factored in, but we'll see. We'll evaluate both guys."
Pettine praised Manziel on his 96-yard touchdown drive, saying he saw the field and placed the ball well. But Pettine said Manziel's two-minute drill was "ragged."
While Manziel said he's playing to get noticed so he can perhaps earn a chance to start, Pettine emphasized McCown is still "firmly the one."
"I'm not going to sit here," Pettine said, "and talk about trying to stir up a quarterback controversy."
Pay Per Head Sportsbook has gruesome odds for this team at 125/1 and that doesn't seem to change any time soon.