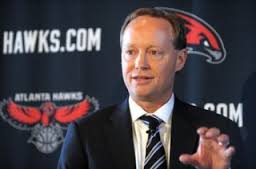 Mike Budenholzer has been named NBA's Coach of the Year. The man at the helm has guided the Atlanta Hawks to the league's second best record and the number one seed in the Eastern Conference playoffs. Mike Budenholzer received 97 of a possible 130 first place votes and with an overall of 513 points. H finished just ahead if Golden State Warrior coach Steve Kerr with 471 points.
The Hawks this season under Buenholzer went 60-22 in just his second year, finishing with the best regular season record in franchise history. Budenholzer comes from the Popovich coaching tree. He was a longtime assistant who started as a video coordinator. He learned about the award from his long time mentor Popovich when he called. Budenholzer thanked his mentor at his acceptance speech at Philips Arena on Tuesday afternoon.
"I think I speak for myself and a ton of my colleagues — it's a long list — that I get to speak publicly and thank Pop for letting us coach with him," Budenholzer said. "It prepared me for my opportunity. And I think that's ultimately what the role of a coach is — to prepare his team, to prepare a player, or to prepare a person for their opportunity. And I just want to thank Pop for preparing me for this opportunity."
Coach Budenholzer gave all the credit to the group of players and staff of coaches for the successful season. "We have an incredible group, and every day the work and the commitment that they put in is very special," Budenholzer said. "It makes me want to get better so that I can keep pace with them, the pace with which they work, the effort with which they put in to improve. It forces me to keep up with them and to keep getting better myself."
Budenholzer also served as the Hawks' senior executive in all basketball operations since September, when then general manager Danny ferry took a leave of absence. "I wouldn't be here today without Danny Ferry's faith in me, without Danny Ferry's belief in me," Budenholzer said. "Through his good work, through his good decisions, through the good players that Danny put together, I'm here."
Pay per head and Bookmaking Solutions have the Atlanta Hawks at 12/1 to win the championship, and I wouldn't really know how to characterize them. I guess they still have to show something before the public starts to believe in them a little more.