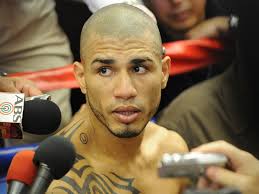 Miguel Cotto wants to see Manny Pacquiao take out Floyd Mayweather when they hit the ring on the 2nd of May, in what pay per head wagering companies believe will be a massive fight in Las Vegas.
The Puerto Rican fighter was in the ring with both men, and he believes that Pacquiao will be the one to win this meeting, having Freddie Roach – who's also Cotto's trainer – in Pacquiao's corner when the fight kicks off.
"After working with Freddie I think he is going to be huge in the fight," said Cotto. "I'm going for Manny."
The FIlipino sent the 34-year-old to the floor on two occasions before a 12th round stoppage in a clash that took place in 2009, and then in 2012 he was beaten by the American due to a unanimous decision.
Cotto – the champion of the WBC middleweights – just signed a lengthy deal with Roc Nation – owned by Jay Z – music tycoon.
"I never met him, but who doesn't know about Jay Z," said the fighter. "Working with his company is big for me. In this chapter of Miguel Cotto's career, it will make a difference."
A deal for a fight has not yet been finalised, but on the 6th of June, Cotto is looking to put his title on the line at Madison Square Garden, and many fans out there would really like to see who his next opponent will be.
"I'm in the final stage of my career and I want to finish my career in the best way possible," added the Puerto Rican.
"This is going to be a new challenge for me and we want to do it with Roc Nation."
Before he joined Roc Nation, Cotto was holding talks to face Canelo Alvarez, who is now set to take on James Kirkland in Houston on the 9th of May.
On more possible opponent would be Gennady Golovkin, and pay per head wagering companies know that many boxing fans would definitely not mind seeing this showdown taking place, considering what a big threat the Kazakh fighter can be in the ring.
"I'm going to do what's best for me," said Cotto. "If it's Golovkin, I'll go for him. If it's someone else, it's someone else."
Cotto is joining Andre Ward – fellow champion of the WBA – in signing with Roc Nation.