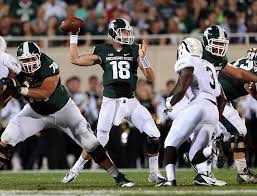 On Saturday, Michigan State and Wyoming go head-to-head at Spartan Stadium, in what many local bookies believe could be a very tight meeting.
Even though the Cowboys are 3-1, the team had a terrible offense so far this season and that's why they only featured in tight contests. Only 57% of Colby Kirkegaard's passes are completed, and the player has three interceptions for four passes for a TD, while the Cowboys' game on the ground ha averages under four yards a carry. The Cowboys currently have a 351.8 yard and 17 point average for each game played.
There's a pretty good reason why Wyoming has so many problems with their offense, and that's because 16 sacks were allowed by their offensive line, which is not bad at all after being ranked 124th in the US. As the Cowboys were playing teams that were not top-level at all, against Michigan State things could be much different, as the Spartans are considered to have a much higher level than the other teams they faced. When it comes to their defense, 370.5 yards-per-game are allowed by the Cowboys, and the team has three sacks and five turnovers. With 37 tackles, Mark Nzeocha is the one who leads Wyoming, while Patrick Mertens and Devyn Harris recorded three tackles for a loss each.
Michigan State was able to rebound after they were beaten by Oregon when they defeated Eastern Michigan, and as they won 73-14, the Spartans pretty much owned the game. 69.7% of Connor Cook's passes are completed for 711 yards and seven TD's, and Michigan State has a 4.6 yards-per-carry average when it comes to their ground game. Something that the Cowboys have now, that was missing from the team for a long time, is a very good receiver, and now Tony Lippett is filling that position. He caught the ball 18 times for 345 yards and five TD's scored, and seems to be well on his way to having his best season so far. This season, the Spartans' offense seems to be more balanced than a season back. When it comes to their defense, the Spartans allow 290 yards, had nine sacks and nine turnovers. Michigan State is led by RJ Williamson, who has nine lone tackles, and three tackles for loss were made by Marcus Rush.
Local bookies can see that Wyoming are currently 22-9 ATS in the last 31 games on the road, and overall, the team are 3-9 ATS in the last 12 games that the played overall. In their last four games at home, Michigan State are 4-0 ATS, and overall, they're 8-2 ATS in their last ten games.
NCAA Football games information:
Texas Tech vs. Oklahoma State game analysis