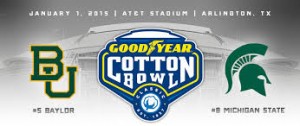 This year's Cotton Bowl should prove to be very exciting, as Baylor and Michigan State are set to face each other at the AT&T Stadium in Arlington, Texas, and price per head bookmaking companies believe that this will be one very interesting matchup.
The Bears were able to win five games in a row and go 3-2 ATS ever since they suffered their season's only defeat, and this year the Spartans were beaten twice – to Oregon and Ohio State – two teams that made it to the field of the playoffs
The betting line opened with Baylor as the favorites by 1.5 points, and 71.5 was the total.
On their way to the Cotton Bowl, the Spartans took on much stronger teams. Perhaps Michigan State ended up losing both of the most difficult games that they played this year against the Ducks and the Buckeyes, but were able to get up and dust themselves off, covering in many games after these defeats.
After they lost to the Ducks, the Spartans were able to beat the spread in straight meetings, winning six consecutive games before they suffered the lost the Buckeyes. Ever since they lost 49-37 to Ohio State, the Spartans were able to cover and win three games in a row.
The Bears won't be playing far from home, and many supporters should be rooting for them. This season, Baylor were able to go undefeated in their home games, as they went 4-2 ATS, and the team has a 48.4-points average after they won last five meetings at home overall since having lost 41-27 in a road game to West Virginia as the favorites by eight points.
For Baylor, the most important thing for this meeting will be how motivated they are, as coach Art Briles must tell his men that there's only a single way to show that they're part of the country's top four, and that would be by taking out Michigan State.
This year, the Big Ten was heavily criticized, and with good reason. But these types of games can give plenty of respect to the conference. Even though Baylor have the right to feel disappointed that they didn't make it to the playoffs, this fact can actually work in their favor.
Michigan State have been able to cover and win their last three bowl meetings. Although the regular season could have been better for the Bears, the Spartans' team is superior and they only lost to two out of the nation's top four teams.
Due to this, price per head bookmaking companies believe that Michigan State should be the ones to go for when the Cotton Bowl gets underway.