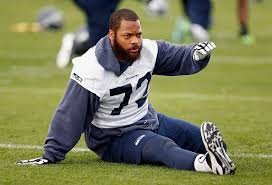 On Saturday, Seahawks DE Michael Bennett spoke with KHON2-TV, a TV station in Honolulu, telling them that he could hold out from taking part in the team's training camp as he's not satisfied with his deal. Now pay per head sportsbooks would really like to see what the player will decide to do, especially with the regular season quickly approaching.
"I don't mind staying home for a little while," the DE told the station. "Hawaii's weather is great, so I'll just keep it at that."
The fans can agree that Hawaii has some very nice weather, but many of them believe that the player should stop thinking about how nice it is outside for a minute and consider his situation with the team.
In March of 2014, a 29-year-old Bennett – who's living in Hawaii during the offseason – signed a deal of four years and $28.5 million, with a guaranteed $16 million. However, the player is now looking to get paid as one of the top DE's in the league, something that would raise the contract that he has with the Seahawks to over $10 million for each year played, and many fans and experts wonder if he'll be able to get what he wants. They also know that the player would be taking a pretty big risk if he decides to hold out,
The DE didn't take part in any of Seattle's organized team activities, which aren't mandatory. However, Bennett participated in the Seahawks' minicamp that took place from the 16th to the 18th of June, which he was required to attend.
The player could get fined an amount that could go up to $30,000 for each day that he holds out from training camp, which is set to get underway on the 31st of July in the team's facility located in Renton, Washington. His fans hope that some solution is reached, as they would certainly not like to see the player get in this amount of trouble with the team.
"I think I've outplayed the contract that they gave me," said Bennett on Saturday. "It's one of those things where you have to let your agent [Drew Rosenhaus] do the talking with the team and hopefully something good comes out of it. It never hurts to try."
Pay per head sportsbooks are very well aware of what an important part of the Seahawks Bennett is, and hope to see things work out – hopefully as soon as possible.