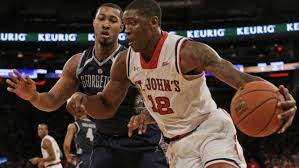 The worst part of St. John's visit to the 2015 Men's Basketball tournament wasn't a loss Friday to San Diego State. The team had done their best to make it out of the second round, and they accepted their fate.
The thing that was so upsetting for the team was that they were missing their top blocker, Chris Obekpa, all because of a marijuana violation. He was suspended for two weeks last Sunday, but still has one year of eligibility left.
St. John's shooting guard senior D'Angelo Harrison was so upset that he spoke to reporters after the game.
"Oh, I am upset about it and I will have some words for him when we get back,"
"All we needed was a little push from the big guy (Obekpa). … I'm disappointed and this should have been a very different ending for all of us."
The game was a struggle from the beginning and San Diego State Aztecs were ahead by 7 at the half. Their towering team was able to easily score in the second half with layup after layup without the St. John's 6 foot 10 blocker.
With Obekpa missing, the Aztecs were able to make 9 3-pointers,
Coach Steve Laving of St. John was unsure of Obekpa's future with the team after the Men's Basketball tournament.
"We've been in communication and I wouldn't be surprised at all if he doesn't return to St. John's."
There was still some inconsistencies for the rest of the team though, according to the coach.
"If Rysheed doesn't get in foul trouble, I think this is a game that comes right down to the wire," Lavin said. "Ideally, we would have preferred to have Chris' services today, but to me – when I look at the game – (the turning points) was when Rysheed picked up that second foul because of the way he influences the game at both ends of the court."
There was some good news in the game for the Red Storm's Sir'Dominic Pointer who scored 21 points with 10 rebounds despite a hip injury from a hit to the floor hard in the first half.
St. John's will just have to wait until the next Men's Basketball tournament to once again get their chance at a win.