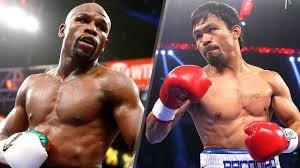 The fight of the century is almost upon us as the world readies itself for the meeting of boxing legends, Manny Pacquiao and Floyd Mayweather Jr. and there is no shortage of options as to who will win this fight and online sportsbook services can't wait.
Former Argentinean boxer Sergio Martinez said who he thought would be the winner on a radio show.
Sure there are plenty on both sides who extol the virtues of their chosen fighter according to online sportsbook services.
"This was never too much of a fight to me because Mayweather is in a league of his own," said Martinez. "Floyd Mayweather can have Manny for breakfast, lunch or anything. Pacquiao is still a long way from being ready for Mayweather."
Floyd "Money" Mayweather just might be onto something; it's all about the green.
There is no question who the real winner in this or any fight is; the promoter and arena. MG Grand Garden Arena will make a cool $74 million from just over 15,000 seats sold, which beat out Mayweather's fight against Saul "Canelo" Alvarez which took in a mere $20 million in 2013.
The front row tickets originally priced at $1,000 are now $10,000 but the public has almost no chance of getting any from the MGM Grand. The only hope to buy a ticket to the fight would be through a secondary seller, who could raise the price to an astronomical amount.
The MGM Grand Hotel is also raking in the green as it sold out all of its room immediately after the May 2nd fight was announced in February.
How about a $100k package? A Nevada brothel is offering a package including two tickets to the fight, round trip airfare from anywhere in the continental United States, car service, weekend lodging plus a 'visit' with all 24 girls working at the ranch. (That would be Sheri's Ranch if you're interested)
Don't worry if you don't get a ticket to the fight of the century, or the richest fight as some are calling it. There's still plenty of rooms left in Las Vegas and surrounding area, and the fight will be broadcast in all of the sportsbooks in Nevada.
Estimates are that the fight will make about $400 million for promoters, hotels, arenas and the like, but that number could turn out to be much higher in the end.