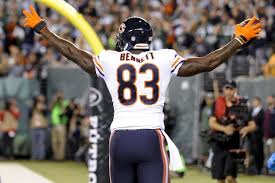 Bears TE Martellus Bennett said that his contract situation doesn't worry him anymore, but PPH bookie services saw that this comment was far removed from what he said in June.
"I'm not even worried about a contract right now," said Bennett. "It's just business. I have no hard feelings against anybody.
"Some business deals go the way you want. Some — I have several business deals this offseason that worked and didn't work out. For me it's just another business deal, and then that's just the way it is. Some deals get done, some don't. Still got to come to work and do my job."
A 28-year-old Bennett said something completely different in June during the team's minicamp, after attempts to get a new deal by not participating in the offseason program, which is voluntary, were not successful.
"I'm always working on a new contract. All sides of business," said the TE. "I think that everybody, even you guys, should be lobbying for new contracts. If your performance is at a high level and you're playing to a high level, then you want to be compensated for the level that you play at."
Bennett, who last season made it to the Pro Bowl for the first time, still has a couple of years remaining in his deal with the team, and PPH bookie services learned that he's set to make a $4.9 million base salary in 2015. The player will get $5.085 million in the last year of his contract.
Bennett's decision to actively pursue a new contract took place after he was leading the TE's last year, having recorded 90 receptions and reaching career records with 916 receiving yards and 6 TD's.
But during the end of 2014, the Bears went through a huge coaching staff and front-office overhaul, and coach John Fox and GM Ryan Pace were not willing to extend deals with players yet
However, Bennett believes that anything missed during the offseason can be worked through.
"I mean, they got all season to get to know me. I'm available. So I think they have a grasp for who I am," said Bennett. "It's Day 1 again, so everybody starts all over again. Some terminology, and still learning some things like that, but overall I think everybody is starting all over again. I don't think anyone has the offense down. I may be a leg behind, but I'm a pretty quick learner."