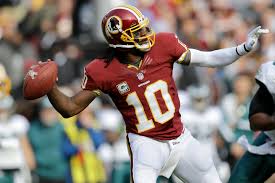 Mark Brunell, who Football Outsiders say was the league's 36th-ranked QB in 2004 and was a favorite with price per head providers, doesn't think highly of Robert Griffin III, and believes that he won't accomplish much at all this coming season.
"From what I've seen the last couple of years — listen, he burst onto the scene and that was impressive — but like I said, he has gone backwards," Brunell told ESPN. "It's not just his decision-making, it's his fundamentals. He's taking too many hits, he's quick to get out of the pocket."
When Brunell was asked if Griffin, a.k.a. RG3, had what was necessary to be successful in the NFL, the former QB said that he didn't think so, and many people in the NFL don't really blame him for his thoughts about the player.
However, price per head providers find this very interesting, as Brunell used to have a very favorable opinion of RG3. When he spoke to ESPN last May, Brunell said, "[Griffin will be] one of the best young quarterbacks in the league and he got there because he's a great athlete and he'll be coached well. He'll be fine. Other young quarterbacks couldn't get to that point. He won't be one of those guys. He's smart."
In January, following another bad season played by RG3, there was some hope in Brunell's words.
"You can develop those [instincts]," he said. "But to develop those instincts you have to stay in the pocket. You've got to be in there and it's not easy because a lot of quarterbacks' heads tell them to stay in there but the feet tell them we've got to go. It's tough."
Now his opinion on the current Redskins QB suffered a bit of a change, and he thinks more like most people do.
"Last year was difficult to watch," said Brunell. "Does he have the skill set? Yes, but we haven't seen it in some time."
NFL fans who saw how the team performed last year can agree with Brunell – it was painful for the eyes to see the Redskins underperform like they did, and RG3 should do a much better job on the field this time around if he doesn't want to see himself getting benched or even parting ways with the team.
It's still too early to say how Griffin will do when the season comes around, but there's still plenty of optimism that he'll exceed expectations.