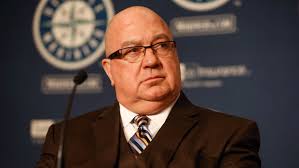 After 7 very disappointing seasons in which the Mariners failed to make it to the postseason, GM Jack Zduriencik was fired, Friday morning. Kevin Mather the team president announced his decision and anointed assistant general manager Jeff Kingston to takeover on the interim basis. Kingston has been part of the front office since 2009 after spending 7 seasons as director of baseball operations with the San Diego Padres. PPH Bookie service holds them with a high odd of 350/1.
"We have reached the point when change of leadership of our baseball operations is needed for the Seattle Mariners to reach our goal of winning championships," Mather said in a statement. "We are very disappointed with the results this season, and are not satisfied with the current operation. The search for a permanent general manager will begin immediately, and while there is no deadline, we expect to have a new GM in place as soon as practical."
Mather expressed his desire to have an experienced GM if not before the season concludes shortly thereafter. "I think we have the nucleus of a very good baseball team. The nucleus of this team should bode well for candidates," Mather said.
There has been only one player drafted in the Zduriencik era that has developed into an All-Star and that is Kyle Seager. They have drafted 3 times in the top 5 and players selected have not become regular contributors in the majors, Danny Hultzen, Dustin Ackley and Mike Zunino.
On the bright side the Mariners did land Robinson Cano and Nelson Cruz in free agency but he also dealt away Michael Pineda for the likes of Jesus Montero and so on and so on.
The Mariners gave Zduriencik an extension last year after the club gave a valiant effort and barely missed the playoffs. The confidence they did have in him quickly faded this year and the move was made.
"[This season] at the major league level has been a disappointment which caused me to pause, re-examine and say, 'Do we have the right architect, right leader to do this?' So that was the change," Mather said.
Some say that there was a lack of chemistry between him and his managers. Mather said manager Lloyd McClendon's contract goes through 2016 and that he will "work for the new general manager."
"I want to thank Jack for his loyalty and hard work over the years, and for the quiet dignity with which he has carried himself," Mariners CEO Howard Lincoln said in a statement.