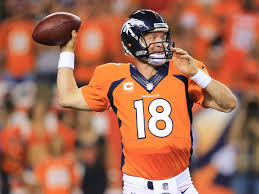 The Broncos' Peyton Manning and their wide receivers were thinking about playing keep-away with the football if the famous QB was able to set the league record on Sunday night for TD passes made. The team's Live betting fans found out that they even played the game in practice on Friday.
"He came to me … and said if anybody scores the 509, that's what we should do," said WR Demaryius Thomas. "He said 'Keep the ball away,' like hopscotch or whatever. I was like, 'Cool.'"
On Sunday night, the player was able to throw the 509th pass for a TD made in his career, which was an 8-yard pass to Thomas, with only 3 minutes and 9 seconds left in the game's second quarter.
Then keep-away began, and it went like this:
Manning tried to take the ball away from Thomas, the ball then went to Emmanuel Sanders, then it went to Wes Welker, then Sanders got it again, then Julius Thomas, and finally, Manning..
"We were definitely rehearsing it," said Sanders. "But I didn't think we were going to do it. I ended up running up to Demaryius, who had caught the touchdown, of course, and I was like 'Let's do it … let's just do it.' And we did it."
After the Broncos took out the 49ers 42-17 on Sunday night, Manning said that he didn't think that keep-away would really be played in the game, but this doesn't really come as a surprise to the team's Live betting fans. In fact, they found out quite amusing.
"I can't believe they actually did it," said Manning. "We sort of joked about it during the week … I've lost my vertical leap, it's not there anymore, my side-to-side agility is not quite as quick, so it hurt me.
"But that was pretty funny, I enjoyed that and I'll definitely remember a lot of things about [Sunday night], but I'll definitely remember that part of it and the fact they had the guts to go ahead and go through with it."