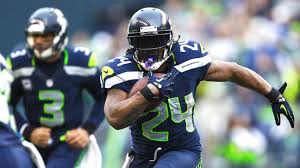 Last month, Seahawks coach Pete Carroll said that he gave RB Lynch a very big offer for the 2015 season, and pay per head sportsbooks were very happy to learn that he accepted it.
The player is leaving a season where he didn't get the ball in a very controversial play on the one-yard line, which saw the Seahawks get beaten by the Patriots in the Super Bowl thanks to an interception that sealed the game.
"To be honest with you, I would be lying if I didn't tell you that I was expecting the ball," said Lynch.
"Yes, I was expecting the ball. But in life, these things happen. Like I told a reporter after the game, it's a team sport."
When the Super Bowl was over, there were rumors that the player had retirement on his mind, but then, Seahawks GM John Schneider and coach Carroll both said that they thought it wasn't true, and it appears that they were right.
Last season, the very talented RB recorded 17 TD's – 13 of them rushing – which proved to be a high in his career. Pay per head sportsbooks saw that during the NFL's regular season, the player was able to rush for 1,306 yards, with another 318 added in three games played in the NFL postseason. In the Super Bowl, Lynch made 102 rushing yards as well as a TD.
In each one of the last four seasons playing with Seattle, he was able to rush for a minimum of 1,200 yards, and was a key piece in the team making it to a Super Bowl.
Even though the player has plenty of stamina and skill, which turned him into one the team's most celebrated players, he's also known for not wanting to talk to reporters. This year, in mandatory sessions with the media during the week of the Super Bowl, the RB said the same thing again and again, which include "I'm just here so I won't get fined," something that he's now looking to trademark, and many fans were surprised to learn about this.
In other news, Seattle made the decision on Friday to put an end to TE Zach Miller's contact, as the team said that he didn't pass a physical. Miller, who in 2011 signed with the Seahawks, only featured in three meetings last season after having suffered an injury to the ankle that gave the team no choice but to put him on the IR list.