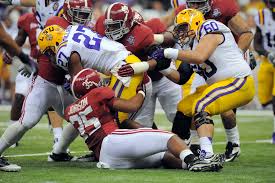 Alabama and LSU are both ready to win four times in a row when they square off in Baton Rouge in their clash on Saturday night. The Crimson Tide beat the Tigers the last three times that they faced each other, and this includes a 21-17 win in their last meeting two years ago at Tiger Stadium, but the team was not able to cover as the road chalk by 7.5 points. Sportsbooks that provide online bookmaking solutions saw that Alabama also couldn't cover in their last five meetings overall as the road favorites.
The betting line opened with Alabama being the favorites by 6 points.
The Tide will be under a lot of pressure in this meeting, especially since the rankings of the College Football Playoff initially showed that they were at No. 6. Alabama must not be very happy at all about this, since they're not within the top four, but they there's still time for them to turn things around.
Alabama see this meeting as crucial, particularly since the Mississippi State Bulldogs were already able to beat the Tigers at home. The Tide were off for a week so they could be set to face the Tigers, proving themselves this season when necessary.
Many Alabama fans said that the Tide were not able to score enough after October 11, when they beat the Arkansas Razorbacks 14-13. The week after that, they thrashed the Texas A&M Aggies at 59-0, proving that when they're motivated, the Tide are a real threat on the field.
LSU are 3-0 ATS in the last three home games that they played as underdogs, and were able to win 19 out of their last 21 games at home overall, but they lost to the Tide in one of those two defeats. This Tigers team is a young one, and it kept on growing while the season was moving on, something that was seen when the beat the Ole Miss Rebels 10-7 a couple of weeks ago as the home dogs with 3.5 points.
Even if they can't make it to the four-team playoffs LSU just had a week off, and they're very well aware of the importance of this clash, which will be closely followed by many sportsbooks providing online bookmaking solutions. The Tigers would be more than happy to put an end to the Tide's efforts to make it all the way this season.