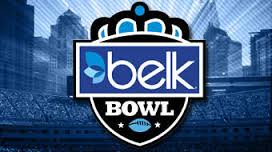 Georgia is set to take on Louisville when the Belk Bowl gets underway in Charlotte on the 30th of December, and bookmaker call centers believe that the fans will be in for plenty of entertainment.
The Bulldogs and Cardinals were able to finish their seasons after facing their arch enemies at home, with completely different results.
Georgia squared off with the Georgia Tech Yellow Jackets, and were able to tie the meeting with a field goal made in the last second, before they clinched an overtime win. In the meantime, Louisville took on the Kentucky Wildcats, taking a lead in the second half, with the Cardinals eventually winning the game.
Both teams are now ready for post-season action. The Bulldogs, who are 9-3, heavily depend on their very strong running game, with RB's Sony Michel and Nick Chubb replacing Todd Gurley, who is out due to injury.
This season, QB Hutson Mason did a very good job on the field, as he was able to record 20 TD's with only 5 picks. WR Chris Conley was the one leading the team with 7 receiving TD's and 577 receiving yards.
For the Cardinals, coach Bobby Petrino would rather use a powerful passing attack, winning games with high scores. However, Louisville's defense did a great job for the majority of the season, and was led by CB Gerod Holliman, who this season has 14 picks, leading the country.
Louisville had to use the services of Kyle Bolin, their third QB, so they could take out the Wildcats. Right now it isn't known if Bolin or Reggie Bonnafon – the team's last starter – will start for this contest.
Regardless of which player gets to start for Louisville behind center, the player should be able to pass the ball to WR DeVante Parker, who in a season shortened by injury was able to catch the ball 35 times for 735 yards and 5 TD's, impressing many fans along the way.
Putting a stop to the Bulldogs' running game will be what the Cardinals will have to do. If the team is able to stop Michel and Chubb, with Mason throwing the ball, they will have an edge. However, many experts and bookmaker call centers believe that right now this scenario does not seem very likely at all, but what will ultimately happen in the Belk Bowl is yet to be seen.