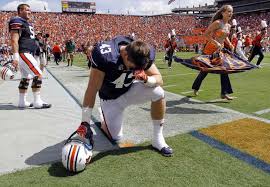 Local bookies know that the Auburn Tigers still feel the impact that tight end Philip Lutzenkirchen left on their team.
On Saturday, before Auburn took on Arkansas in their season opener at Jordan-Hare Stadium, many fans saw that the team held a moment of silence so they could pay their respects to the player.
The Tigers' fans were very shocked and saddened when on June 29, a 23-year-old Lutzenkirchen was killed in LaGrange, Georgia, in very tragic a car accident.
Earlier this week, coach Gus Malzahn said that he would be wearing a bracelet in memory of Lutzenkirchen, who happened to the first player to be recruited by the coach when he joined Auburn as the team's offensive coordinator.
"I'm sure there will be some players who will honor him in their own way," the coach said.
Lutzenkirchen – who was a part of Auburn's team that won the national championship in 2010, and who was a huge talent in the sport – was able to catch 59 passes from for 628 yards, and with 14, he has a ranking of the very first all-time in the history of the school for TD receptions for a tight end.
The player's fans could clearly see his talent all along – especially when he caught the TD that won the game for Auburn in 2010 over Alabama – a play that left fans all over the country in awe, and the Tigers' fans are not likely to forget this play – or this game – any time soon.
Local bookies found out that in the fall camp, the Tigers painted Lutzenkirchen's old No. 43 in their practice field's end zone – something that shows just how much the player was respected.
The Tigers also paid their respects to David Langer, the hero of "Punt, Bama, Punt," who also passed away in the offseason due to cancer. The former player – who's very famous in the football world – was 62-years-old when he died.
Auburn's fans were very sad to learn about what happened to these players, and know that they will live on in the spirit of the Tigers.