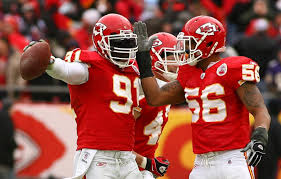 Local bookies saw that the Chiefs were beaten by the Chargers 11 out of the last 13 times that they faced each other, and now San Diego, who are 5-1, will try to be the ones to take over again when they face Kansas City at Qualcomm Stadium on Sunday. The Chiefs are 2-3.
San Diego's betting line opened up with the Chargers being the favorites by 5.5 points. Earlier this week, many sportsbooks put the total at 44.5.
After Kansas City started the season 0-2, they were able to win two games in a row, which include a blowout win over the Patriots, but two weeks ago they lost 22-17 in a very difficult game against the 49ers. Then the Chiefs were off last week.
Kansas City were able to outrush and outgain three consecutive teams, which include Denver and New England, before they were beaten by San Francisco. This season, the Chiefs only have a ranking of fourth place when it comes to rushing, with 138 yards-per-game. Kansas City are 21st place in total offense, in total defense they're 14th, and they have a fifth placed ranking in allowed points with only 20 for each game played.
San Diego and many local bookies believe that they currently have the top team in the AFC, and the numbers might prove them to be correct. At 27 points-per-game, the Chargers are ranked at second place, as well as first place in points allowed in the AFC, with only 15 per each game played. The Chargers were trailing the Raiders last week by a TD with 10 minutes remaining, and then they were able to score the game's last 10 points for a win of 31-28.
Branden Oliver gave the Chargers a second consecutive rushing effort for 100 yards, QB Philip Rivers made another very nice performance, and with a 37-23 margin they were able to win possession time. In TOP, San Diego have a ranking of third place in the NFL, and that would prove to be very important as they try to win games and cover.