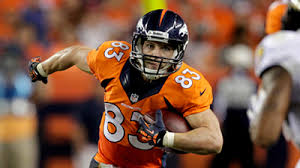 On Monday, the Denver Broncos' Wes Welker was able to return to practice, but the player's Live betting fans are still very concerned about his condition.
The wide receiver, who continues to be on the league's concussion protocol, was not cleared to play, and it still isn't known if he'll be able to feature on his team's opener against the Indianapolis Colts on Sunday night. But on Monday, the player showed up for practice (the team were practicing without pads, wearing helmets, shorts and jerseys) and it was the first one that he made since August 23, when he suffered a concussion.
"He's still in the protocol. He's still exercising. Feel good about progress," said Denver coach John Fox. "… But obviously, as I said all last week, he's a guy we'll be cautious with, and our main concern is his safety."
This proved to be another part of the player's recovery after he suffered his third concussion. The wide receiver was cleared to travel to Texas last week with the Broncos for their game against the Cowboys, which was their last one of the preseason. Before the game, the player was running a few routes wearing a T-shirt and shorts and without a helmet, but once it started, he was not wearing a uniform.
On Saturday, John Elway, Broncos legend who's their general manager and executive vice president of the team's football operations, said that the player was making good progress but that Denver would take it easy on him.
Live betting fans know that before Welker is able to feature in any game or fully participate in a practice session, he must meet certain standards within the NFL's concussion protocol.
In the NFL, the timetable for a player to hit the field again starts once he is free of symptoms, and if he reaches one of the protocol's benchmarks without showing any symptoms, he is then able to move on to the next phase.
An independent doctor chosen by the NFL Players Association and the league must be the one to clear Welker.