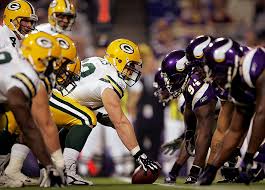 Live betting fans saw that Jerick McKinnon and Matt Asiata recorded 213 yards on the ground for the Vikings when they defeated the Falcons last week 41-28, and Adrian Peterson wasn't really needed at all. The team now has an average of 134.8 rushing yards per game thanks to these players' contributions.
The success that Minnesota had when it came to running the ball opened things up for QB Teddy Bridgewater, who in his debut as a pro was able to throw for 317 yards, while he generally seemed to be very confident.
An injury to the ankle gave the player no choice but to leave the game, but he had a negative MRI, and the young QB is ready to hit the field once again when the team takes on Green Bay. On Thursday, Bridgewater's main job will probably be to hand the ball off to McKinnon and Asiata, as Green Bay are currently allowing 175.8 yards per game – an NFL worst -to the rushing attacks of opposing teams.
The Vikings' passing defense will most likely have a very difficult time against Green Bay, who on Sunday proved to be very efficient when they took on the Bears, effectively and quickly putting the ball in motion throughout the game. When they took on the Falcons, who many fans believe have one of the best passing attacks in the league, the team allowed 298 yards and three TD's, but got two interceptions, which include the vital pick in the fourth quarter by Harrison Smith to clinch the win.
Minnesota will have to keep on the field a very dangerous running offense and control the game's general pace. NFL fans know that Aaron Rodgers is able to destroy a defense, but the player may not be given a lot of chances at all if Minnesota's set of back up RB's can find the holes when they face Green Bay.
Those who doubted Aaron Rodgers started to worry, but their concerns did not last, as the QB made a game that was almost perfect when Green Bay took on Chicago, as he threw for 302 yards and four TD's when his team came out on top in the game's second half to clinch a win of 38 -17.
In Week 4, maybe the part of Green Bay's offense that was the most striking was their speed on the field. On Sunday, Green Bay was able to score on their initial six possessions and ended up recording a total of 358 yards after only getting 223 in Week 3 when they lost to Detroit.
For the Packers, one very big difference was the way that their offensive line played. Rodgers had plenty of work to do after being hassled by their past opponents since the beginning of the season. Allen had pneumonia and had no choice but to miss out on Chicago's loss, and the Bears dearly missed Julius Peppers' impact, as now he plays for Green Bay.
The Vikings' sack rate is an average one for the NFL, as this season their pass rush so far got to the QB on 5.67 percent of passing plays for a two sacks per-game average. Green Bay may not be able to create points if Minnesota is able to hassle Rodgers more than Chicago could.
This season, WR Jordy Nelson ended up recording 459 yards so far, which is the most in the league, and in the passing game, the player seems to be able to take out defenses in almost every part of it.
Also, WR Randall Cobb – Nelson's counterpart – finally woke up when the team took on Chicago, with seven catches made for 113 yards, as well as his fourth and fifth TD's made this season so far. The Packers are very tough to stop when the team's No. 1 and 2 WR's are at their best.
When it comes to their defense, Green Bay must seriously work with Peppers and Clay Matthews. Both players were very efficient this season when it came to getting to the QB, but in the run defense they must make very good improvements, as this season it couldn't stop anybody.
On Green Bay's defensive line, Dom Capers, the team's defensive coordinator, must work on a way to help manage to cover the less talented players, considering what they'll be up against Bridgewater, Asiata, and McKinnon. Live betting fans believe that this will be no easy task at all.
The Vikings are currently 2-2 and the Packers 1-2-1 ATS.