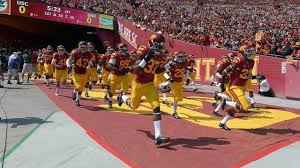 Washington State are currently having a very difficult season, as they were only able to win on two occasions, with their last three meetings lost by a combination of 39 points. The Cougars have 535.8 yards-per-game and a 35.2-point average with QB Connor Halliday, who was able to complete 67.3 percent of all of his passes made with 10 interceptions and 32 TD's. The Cougars' running game isn't something that the team will focus on, but Jamal Morrow is the one leading Washington State with an average of 4.4 yards per carry, and the top WR is Vince Mayle, with 8 TD's and 71 receptions. When it comes to their defense, the Cougars allow 444.6 yards per game and 38 points, getting to their opposing team' QB's with 16 sacks. 51 tackles were made Jeremiah Allison, 57 by Daquawn Brown, and 59 by Darryl Monroe. For Washington State, this season was nothing short of disappointing.
This season, USC had a bit of a rollercoaster ride with a squad that is happens to be very talented. However, they lack depth and were set back by mediocre head coaching. The Trojans recently lost to Utah by three points, and they had every opportunity to be the ones to win this meeting. USC's offense has an average of 450.4 yards-per-game and a 33.8-points average, being led by a very talented Cody Kessler in the QB position – a player who was able to complete 70.2 percent of passes made, with 2 interceptions and 20 TD's. The Trojans' running game is being led by Javorius Allen with 8 TD's and 1010 yards, and the top WR for the team is Nelson Agholor, with seven TD's and 58 catches made.
When it comes to their defense, the Trojans have 14 forced turnovers, with 395.5 yards and 23.2 points allowed. USC's top tackler would be Hayes Pullard, as he was able to make 59. Leonard Williams made 4.5 sacks and 51 tackles, and 69 tackles were made by Anthony Sarao. USC' Live betting fans believe that the Trojans seriously doubt the decision that they made during the offseason regarding the head coaching role.
The Cougars are 6-0 ATS after being defeated at home, 2-5 ATS against a team that has a positive record so far, and they're 14-5-1 ATS after a meeting were they weren't able to cover. The Trojans are 5-1 ATS after a game were the spread wasn't covered, 9-4 ATS in the team's last 13 games played in the Pacific-12, and in their last 17 games on the road they're 4-13 ATS. The team playing on the road was the one to cover the last four times that these teams faced each other
This meeting is not very easy at all to predict at all, as the Cougars were not exactly doing a very good job on the field, and the head coach that the Trojans currently have happens to be one of the country's worst. Now, many experts believe that the Cougars will be the ones to win the meeting, but we can't really know until Saturday.