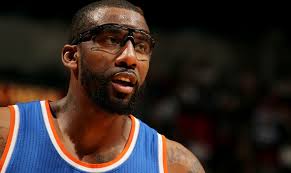 On Monday, Amar'e Stoudemire was waived by the Knicks, putting an end to the injury-ridden time that the player spent with the team. Live betting services now wonder what move the player will make next, and the fans can't wait to find out.
Sources reported that on Sunday, both parties agreed on a buyout of his deal with the Knicks. Once the waivers are cleared, the world famous player is set to turn into a free agent.
"I feel truly blessed to have been able to play for the incredible New York fans, Mr. Dolan, my coaches, teammates and the entire Knicks organization for the past five years," said Stoudemire in a team statement. "I will be forever grateful for the opportunity to contribute positively on the court and in the community.
"Although I leave the Knicks with a heavy heart, I wish the organization the best of luck. Once a Knick always a Knick."
Stoudemire, who was playing in the last season of a $99.7 million, 5-year deal, is planning on signing with a team that is in contention for the playoffs once the waivers are cleared.
Many fans know that in order for the player to be claimed off the waivers, his salary of $23.4 million must be absorbed by said team, so it's not very realistic to think that something like this will happen.
According to sources, now he's thinking about joining the ranks of the Mavericks, and it was also reported that the Suns and Clippers showed interest in acquiring the player's services.
"Amar'e's period as a Knickerbocker has come to pass, at his request," said Knicks president Phil Jackson in a team statement.
"His time here should be marked by recognizing his effort — it was 100-percent. As we move forward in structuring this team, we will look for players that exhibit his desire to win."
In his time with the Knicks, which went for over four seasons, Stoudemire only featured in 255 meetings. The 32-year-old, who was an All-Star on six occasions, recorded an average this season of 12.0 points, as well as 6.8 rebounds made in 36 matches for the New York.
NBA fans everywhere would like to see which team Stoudemire will end up playing for. Many believe that he'll join the Mavericks, but what will ultimately happen with the player remains to be seen.