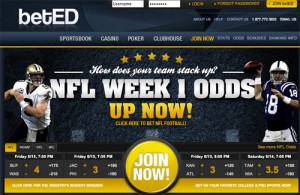 Last year Doyle Brunson, poker legend, ended affiliation with doylesroom.com, just days before a massive federal indictment which seized said website as well as others and charged two online gambling companies and three people with money laundering and conducting a gambling business.  The first indictment named defendants ThrillX Systems Ltd., doing business as the live betting site BetEd.com, along with Darren Wright and David Parchomchuk. The other was named K23 Group Financial Services, doing business as BMX Entertainment, along with Ann Marie Puig.
Agents with the US Attorney's Office out of Maryland set up a phone payment processing company and transferred roughly 33 million dollars in funds on behalf of BetED.
Parchomchuk has now plead guilty to running an illegal gambling enterprise.  He was given a sentence of up to two years probation on June 8 and has agreed to forfeit any claim to the three bank accounts that were identified by law enforcement as part of their sting operation. 
Apparently Parchomchuk never was in control of the accounts, thus making the guilty plea more of a formality. Before the guilty plea, Parchomchuk had been facing a max five year prison sentence. He also agreed to cooperate by providing information regarding Wright's role in the business.
There is a bit of a problems with the seizure of the accounts however, since the balances were from actual players' accounts, and not profits made from the live betting sports wagering site. The price per head amount could be in the millions, and with both betED.com defendants facing jail time, their customers may never be paid.
Many sites such as Sportsbook Review and Covers are trying their best to help get funds back to customers, but the Department of Justice doesn't really believe they have done anything wrong to the customers, stating they seized company funds, and not player funds.
If they processed $33 million dollars, most of us would assume that the majority is player funds.
Now we may just think of it as a donation to the local and federal agencies that help with the seizure.
"Especially in these tough economic times, when I've had to make very unpleasant budget cuts, I'm pleased to see these revenues will come to the police department to help them out and help them do their job," said Anne Arundel County Executive John Leopold.
Doyle must have been psychic to start with the get out when he did, and maybe the players could write off their balances on their taxes, if nothing else. Or not.