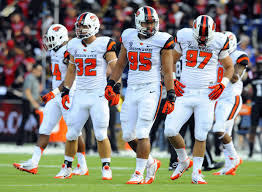 It's no secret at all that the Oregon State Beavers have a real rising star in QB Sean Mannion. Local bookies saw his name all over the news when he turned into the team's top passing player of all time. The Beavers are now 3-0.
Early during the third quarter ,the pass made by Mannion to Hunter Jarmon for 27 yards put the player in the Beavers' books when he was able to break the 11,249 passing-yards record that was set 10 years ago by Derek Anderson.
24 out of 31 passes were completed by Mannion, and the player had 275 when he finished the game. The QB now has an 11,339 passing-yards total.
This just happens to be the latest addition to everything that Mannion already accomplished in the game. The player was able to set the Pac-12's record for passing yards made in a single season last year, when 4,662 yards were made, as well as 37 TD's. The player's excellent form continued from last year all the way to this season, and the fact that Oregon State are currently at the top the standings of the Pac-12 is by no means an accident.
But Oregon State are set to face their most difficult opponents to date. The Beavers will take on USC, who are No.17, and their Trojans are very eager to make a very good recovery after they suffered a shocking defeat two weeks ago to Boston College. USC are also leaving a bye week, something that could prove to be of great benefit when they face Oregon State.
However, Oregon State will obviously have plenty of confidence before their clash with the Trojans, as so far this season, the Beavers have an average of 31.7 points a game, and they're well able to outscore their rivals by a 15 points-per-game average.
The team's defense was also amazing, as this season they were able to limit their opponents to only 17 points-per-game. When the Beavers took on San Diego State, their defense did fantastic work on the field when they were able to stop QB Quinn Kaehler, who made a real career game when he took on UNC.
When San Diego State were defeated by UNC 31-27, Kaehler did a great job with 341 yards recorded, besides a TD, but against Oregon State the player was limited to only 106 yards as he was only able to complete 14 out of 26 passing with two interceptions and no TD's. That strength in defense is what Oregon State needs when the team takes on USC, especially as QB Cody Kessler's season is starting in a great way.
The Trojans were very confident when they faced Boston College. They took out rivals Stanford Cardinal 13-10 and were on their way to clinch one more Pac-12 title.
Entering the game against Boston College, the USC Trojans' confidence was at an all-time high. They were coming off a pulsating 13-10 win over their rivals the Stanford Cardinal and were all set to claim yet another title in the Pac-12 conference.
But then things took a turn for the worse when BC beat USC 37-31, creating one of the season's biggest shocks.
The BC Eagles, who at one point were behind 17-6, were able to score 24 points, winning the meeting, and this proved to be the very first time that a Boston College team which is unranked took out an opponent in the top 10, and live betting fans were amazed.
It's been 12 years since then, and now USC are the ones to feel what it's like to receive this type of shock.
However, not all is lost for the Trojans. After the game, Steve Sarkisian's players said that they still have the goal of being the champions of the Pac-12, and this Saturday the team will try to bounce back when they take on Oregon State. QB Cody Kessler must continue doing a very good job on the field if they want to win again.
He was actually the only real highlight when the Trojans were beaten by Boston College with 31 out of 41 passes completed for 317 yards, as well as four TD's, which is clear proof of his talent. There was a problem, however, and this was with the team's offensive line, as they did not offer him much protection, and he was sacked five times in the game.
The Trojans must also seriously work on their rushing defense, as the team was outgained 452-20 on the ground when they lost to the Eagles. That happens to be a huge 432-yard advantage. Since 1977, USC did not have such a big advantage and before they take on Oregon State, it's vital for them to take care of this issue.
USC never lost at home to Oregon State. Since September of 1996, the Trojans have a very impressive 8-0 at home against the Beavers.
More College Football Week 5 Information: 
Texas Tech vs. Oklahoma State game analysis
Texas A&M could be too strong for Arkansas
Michigan State vs. Wyoming Week 5 game analysis