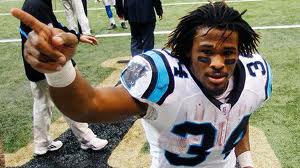 On Monday, coach Rivera said that the Panthers won't have the services of RB DeAngelo Williams for at least a "couple of more weeks", something that concerns many of team's Live betting fans.
The player suffered an ankle sprain on September 28, in the first half of the team's loss to the Ravens. He was not able to feature in his two last meetings against the Bears and the Bengals after a hamstring injury kept him out of Weeks 2 and 3.
The coach did not mention the exact duration of the player's absence from the game until Monday. Even though Williams didn't play six quarters, this season the player was the Panthers' top rusher with 106 yards until QB Cam Newton was able to rush for 107 yards on 17 carries on Sunday in the team's tie of 37-37 with the Bengals, in a game that won't be forgotten any time soon. Now he has 149 rushing yards. Among the healthy RB's, the one who is the now the closest is Darrin Reaves, with 76 yards recorded.
The coach said that Jonathan Stewart, who ended up missing three games in a row due to an injury to the knee, could return for the game against the Packers on Sunday. The player was able to rush for 88 yards in the team's first three meetings.
Many Live betting fans believe that the player's appearance as a RB for the very first time since he received surgery on his ankle in March should be able to help the Panthers when it comes to their rush offense. The Panthers are ranked 28th in that department.
"Now all of a sudden those defensive ends can't go crashing down, or those linebackers — or what we call the hangovers — can't start driving at the runner," said Rivera. "They've got to sit there and read. Now all of a sudden they're not getting good jumps to the ball carrier, so they're not quite sure who has the ball."
In the meantime, the coach said that on Tuesday, doctors will re-assess CB Josh Norman, who suffered a concussion, and nickel CB Bené Benwikere is a doubt for the game against the Packers due to an ankle injury.