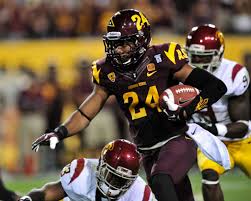 Live betting fans saw that on September 13, the UCLA Bruins were able to narrowly take out the Texas Longhorns 20-17, and not cover the spread for the third time in a row. UCLA played as the 8.5-point away favorite, but not thanks to the team's foggy defense without the services of QB Brett Hundley, who left in the game's opening quarter after he suffered an injury to the elbow.
Hundley's status when UCLA faces Arizona State is questionable, and this season it happens to be the Bruins' first conference game. If Hundley isn't able to play, coach Jim Mora will most likely again use the services of Jerry Neuheisel – backup QB – to lead the team's offense. Since 2004, UCLA are 7-3 ATS in the last ten games played there by the team.
Neuheisel did a good job, as he was able to pass 23-for-30 for 178 yards with two TD's scored, but he's the team's backup QB for a reason. His abilities as an athlete are limited, which is not the case of Hundley.
RB Paul Perkins was able to ease Hundley's loss when the team took on Texas with an amazing game, as on 24 attempts the player was able to rush for 126 yards. On offense, the player will continue to be a main factor when the team takes on Arizona State's Sun Devils, who last September 13th only gave up to the Colorado Buffaloes 232 rushing yards.
Arizona State also has injury problems as Taylor Kelly, starting QB, has been hurt. The player suffered an injury to the foot on September 13 when Arizona State beat the Colorado Buffaloes 38-24, and the player is expected to miss plenty of time, which includes the clash against the Bruins at home.
Before Kelly left the meeting, the player was already able to record amazing figures, passing for 195 yards and three TD's. In 2013, the player had a total of 3,635 passing yards and 28 TD's scored, and he also ran for 608 yards and scored nine TD's. QB Mike Bercovici will be the one to replace Kelly for now – on Thursday the player will make his first start. Bercovici was able to finish 9 out of 17 passes for 79 yards and one TD this season so far.
Even though Kelly being out of the team could prove to be a big blow for Arizona State, their offense continues to be in pretty good shape, especially because the Sun Devils have one of the nation's top rushing attacks.
With 304.33 per game, Arizona State have a ranking of 13th place when it comes to rushing yards. RB D.J. Foster is the one who leads the team, as he has 510 rushing yards along with 5 TD's scored. The player is the FBS's fourth top rusher, and in the Pac-12 he's No. 1, with a 170.0 yards-per-game average. However, many Live betting fans believe that he will have to intensify his game with Kelly not among their ranks, as the QB also plays the rushing game, and so far this season he was able to record in three games 168 yards and two TD's.
Some big changes must be made to the defense that the Sun Devils have after the team let Colorado amass 545 offensive yards. Arizona State's missed plenty of tackles and blew a lot of coverages when they took on Colorado. Now, as they face big teams like UCLA, USC, as well as Stanford, they better get their act together.
Arizona State are 8-2 in 10 home games played.