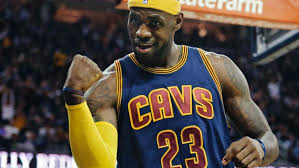 It's been a long hard road for LeBron. He decided to come back to Cleveland as he quoted "I believe in unfinished business." About two games before the end of the regular season, he was posed with another question. Instead of coming up with some lame cliché, he said this "It takes sacrifice," James said back on April 13. "That's the ultimate thing, and that's the thing that everyone talks about, but no one sees it when things are hard. We know we have guys that we can rely on and our guys are really committed to sacrificing everything for them personally and for the good of the team.
"If you can do that and all 15 guys are on the same page and it doesn't matter what you're doing individually, it's all about team, making the next play for your teammate, covering for your teammate, playing for your teammate [then you will succeed]. Doing everything. Living, waking up for your teammate in the postseason. To become a champion, you got to do it. I think that's the ultimate."
Pay Per Head Sportsbook opened up with the Cavaliers the favorite to win the championship. The Golden State Warriors have been favored as of late. And Sportsbook Software has an odd 1/2 that the finals matchup will be the Cleveland Cavaliers and the Golden State Warriors.
The team has become one, with different players stepping up and making a name for them. Players like Matthew Dellavedova, Tristan Thompson has filled Kevin Love's shoes quiet well and the duo of ex Knickerbockers Iman Shumpert and J.R. Smith have given LeBron the type of supporting cast need to weave through the playoffs and come out champions.
"I don't know how many chapters we have in the book as far as this season, but there's at least five," James said after turning the page on Atlanta in short order by becoming the first player in the history of the NBA playoffs to average at least 30 points, 11 rebounds and nine assists in a series, according to the Elias Sports Bureau.
"Just from the start of the season to us making the transaction to acquire [Smith] and then Shump and then Timofey, to us having injuries, to us getting in the postseason, to Kevin Love being out for the postseason, to Kyrie getting banged up and being out for playoff games — we have so many different chapters to this season that's defined who we are."