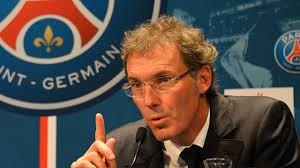 With very high expectations from last year's 3-2 victory, Paris Saint Germain coach Laurent Blanc beliefs he holds the key to beat FC Barcelona at home on the first leg of the quarter finals. The 5 goal thriller played last year in September is something that Laurent Blanc wants to repeat as they have currently a record of 24 matches at home unbeaten. Unfortunately Paris Saint Germain will be missing four players of their roster Thiago Motta, Aurier, Verratti and Ibrahimovic. The biggest setback for Paris Saint Germain is the fact that their star players Zlatan Ibrahimovic the forward that is so strong, intelligent, fast and deadly will be watching the game from the side lines due to suspension and Thiago Motta also a key player who is out with a thigh injury. Paris Saint Germain is one of the few teams that have done damage to the Barcelona defence by scoring 3 goals and on that occasion their star forward Zlatan Ibrahimovic did not play.
Barcelona has practically their team intact just missing their defenseman Daniel Alves due to suspension and Vermaelen with a hamstring injury. The Barcelona coach Luis Enrique did not change his perspective on how they were going to approach the first leg of the quarter finals as he was aware that just because 4 players from Paris Saint Germain were suspended or injured the match at Parc des Princes was going to be an easy one. Price per head agents had their games open on this match as the opportunity for an upset very likely.
Barcelona started playing as they usually do going for control of the ball and scoring an early goal and the numbers prove Luis Enrique was right, they had a 63% possession of the ball in the first half and held the Frenchmen in a low block on their own territory, most of the play was on the 40 yards of their own goal and avoiding mistakes as the Frenchmen's Uruguayan forward Edison Cavani is deadly counter attacking. Their control paid off and on the 18th minute Neymar Jr netted the goal after a pass from Lionel Messi they would go to halftime with a 1-0 lead.
Starting the second half Parisians came out very strong and some opportunities to score but Barcelona's goal keeper was able to keep them from scoring, then something that changed the game happened Andres Iniesta got injured, Barcelonistas got worried but his replacement Xavi came in with a fresh set of legs, ideas and performed beautifully. But it was the night of the wrong Uruguayan for the Parisians as Barcelona's forward Luis Suarez made two amazing goals to seal a 3-1 victory as a visitor which practically puts them in the Semifinals of the UEFA Champions League.