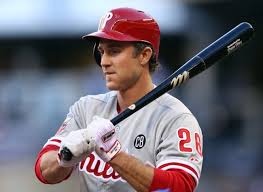 According to multiple reports, the Los Angeles Dodgers have agreed on a deal to acquire veteran second baseman Chase Utley from the Philadelphia Phillies. They will land the left hander in exchange for two minor league players.
The first to report the deal was CBSSports.com and the move comes a day after Phillies GM Ruben Amaro Jr. said that Utley was staying put for the remainder of the season. Utley who is a California native, nearby Long Beach to be exact, has a full no trade clause. This is the reason he has expressed his preference to play in Los Angeles. Utley was linked to various teams the Los Angeles Dodgers, Los Angeles Angels and the Chicago Cubs at different points and times.
Pay Per Head Sportsbook has the Dodgers at 7/1 and the move won't budge the odds much but it's still a great acquisition for the stretch run. Meanwhile the Phillies posted at PPH Bookie service is at 5000/1 a lost cause. Once the acquisition is made official Utley will be paired with longtime double-play partner Jimmy Rollins. Jimmy was also acquired by the Dodgers in a trade, again with the Phillies for two pitching prospects. Utley is batting .217 and hasn't hit well since coming back from an ankle injury.
Howie Kendrick's left hamstring injury accelerated the need for the Dodgers to make a move for the second baseman. Enrique Hernanadez filled in admirably batting .455 in 5 games. The move for Utley allows the dodgers to move Enrique at various positions on the field. This especially important in the case of centerfield where they would like to give a slumping Joc Pederson a spell especially against left handed pitching.
According to reports, the Dodgers will receive $2 million from Philadelphia to offset the $6 million remaining on Utley's $15 million salary. He will be a free agent in November, as will Kendrick and Rollins.
Chase Is On
Veteran Phillies second baseman Chase Utley has been a different hitter since returning from the disabled list Aug. 7.
| | | |
| --- | --- | --- |
| | 1ST 65 GAMES | LAST 8 |
| BA | .179 | .484 |
| Hard-hit avg | .152 | .344 |
| OPS | .532 | 1.227 |
| Doubles | 7 | 5 |
The Dodgers are primed to become world champions this year. They have the necessary blend of youth and experience teams need in October. Only the Royals and the Blue Jays have better odds then the Dodgers and the Cardinals and breathing down their necks.