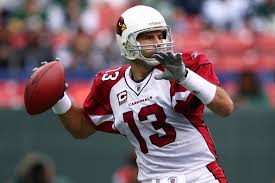 Two of the Cardinals' top QB's were injured, leaving Arizona with no choice but to use ex-Cardinal QB Ryan Lindley for their last five meetings. However, sportsbook software services are sure that if the team would have gone back in time just a bit, they could have employed the services of retired QB Kurt Warner.
The 43-year-old veteran said that he would have seriously considered returning to action if Arizona asked for him to join them.
"I would have considered it," said Warner on Thursday." "Physically, I feel really, really good. Now, is that the same as [playing quarterback] in the NFL? No. … Had they truly reached out and we would've talked about it, I would've considered it."
The future Hall-of Famer said that he spoke with his family regarding his possible return to the league, but no serious talks with the team happened.
"My biggest concern was screwing it up," said Warner about his theoretical return to the team. "Even if expectations weren't high, they would've been for me. … If I was the reason they lost, that would've been hard for me to handle."
The Cardinals suffered a big blow when they lost the services of Drew Stanton due to a knee injury and Carson Palmer with an injured ACL, forcing coach Bruce Arians to get Lindley at the QB position for their last four meetings of the regular season and their loss to the Panthers in the wildcard games.
Lindley, who did not feature in an NFL down since 2012, when he was playing as a rookie for the Cardinals, went 1-3 down the line, and only threw 3 passes for TD's.
Warner, who is now an NFL Network analyst, was able to lead the team to their only appearance in the Super Bowl, in the season of 2008-2009, and he retired from the game after the season of 2009-2010. The player's career in the NFL, which spans 12 seasons, came to an end with 32,344 yards thrown, as well as 208 TD's, which is seen as very impressive.
On Thursday night, Warner turned into one out of 18 finalists to enter the NFL's Pro Football Hall of Fame. Sports software services believe that the veteran who was a favorite with many NFL fans rightfully deserves to be named, considering all that was able to accomplish in the sport.